Become a Foster Parent and help us build a "Shelter Without Walls!"
Our Shelter Without Walls program provides volunteer foster parents for puppies and kittens, animals with special medical needs and adoptable pets on our waiting list. If you love animals but can't take on the commitment of lifetime adoption, then fostering is the perfect alternative!
---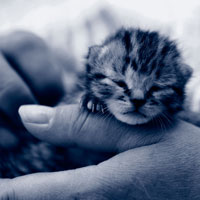 Animals in our Shelter Without Walls program are puppies and kittens too young to be spayed/neutered for adoption, animals who have some special medical needs whose recovery would be more comfortable in a home environment, owner-surrendered adoptable dogs and cats on our waiting list, and animals we have saved and rescued from puppy mills, hoarding cases, and animals left homeless in times of natural disasters.
To become a foster parent, please download, complete and This email address is being protected from spambots. You need JavaScript enabled to view it. , fax it to us at 828-743-7892, or bring to the shelter during normal operating hours (Monday – Saturday 10am-4pm) at 200 Gable Drive in Sapphire.
---